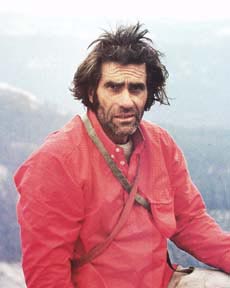 Warren Harding
June 18, 1924 - February 27, 2002
Warren Harding, one of the most publicized of the great pioneers of American rock climbing, passed away peacefully at his home in Anderson attended by his loved ones and many friends on February 27 of this year.
Warren was the driving force behind the first ascent of El Capitan in Yosemite Valley in 1958. This ascent opened the Golden Age of big wall climbing in America. Not content to rest on the reputation he made early in his career, he went on to forge scores of first ascents in Yosemite Valley and throughout the Sierras. Among them are the East Face of Washington Column, the South Face of Mt. Watkins, the South Face of Half Dome, the Wall of the Early Morning Light (also on El Capitan) and the Porcelain Wall. Additionally Warren put up the first ascents of Keeler Needle and the West Face of Mt. Conness in the High Sierras.
Warren was a significant innovator of climbing equipment, but of incomparably greater importance was his talent in creating new concepts of what was possible in the art of ascending the great rock walls. His vision of climbing established the foundations for so many of the first ascents done by others throughout the world.
For many years Warren worked as a surveyor for the State of California, then in private industry up to his retirement. He was a member of the Operating Engineers Local Union, Number 3. In later years he shared his many climbing experiences through slide shows and lectures. Perhaps the most outstanding feature of these presentations was his terrific sense of humor. The encouragement and generosity he freely gave to the many young climbers who took inspiration from his achievements lives to this day.
His ascent of the Wall of the Early Morning Light in 1970 was doubtless the high water mark of his rock climbing career. The notoriety surrounding this climb originated partly from the 27 days Warren and his climbing partner, Dean Caldwell, spent completing the climb. At the time it was the longest period anyone had ever spent on a rock wall, and considerable publicity was generated by that fact. The climb crossed large areas of blank rock on that section of El Capitan. This generated significant dissension in the climbing world, both because of Warren's use of expansion bolts, as well as the sometimes-scathing humor he directed towards his critics.
Warren's classic 1975 book, Downward Bound, has become a much sought after guide by young climbers for its irreverent attitude toward the mountaineering establishment. Warren's approach was to encourage new climbers to forge their own techniques and their own sense of freedom in how they climb. Not only in rock climbing but in all aspects of his life. Warren made his on way: a classic self-made man in the best sense of the phrase. "Don't take climbing too seriously, and don't take yourself too seriously," he said to many of us on frequent occasions. He always knew that this approach would help young climbers to greater heights in their sport and lead them as well to a better sense of themselves.
Warren is survived by his longtime companion Alice Flomp, of Anderson, California, his sister Ardith Barber and nieces Sue McGowen, Debbie Barber and grand niece Becky Olson - all of West Sacramento, California
(By Roger Derryberry, courtesy of Larry of Mountain Tools 1.800.510-2-514)