Experts differ over origin of ancient pictographs
Diana Washington Valdez
El Paso Times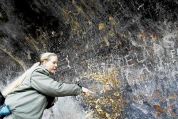 Victor Calzada / El Paso Times

Wanda Olszewski of the Texas Parks and Wildlife Department explained drawings on the rocks Wednesday at Hueco Tanks State Historic Site. Experts disagree over the origins of the ancient artwork.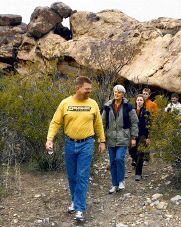 Victor Calzada / El Paso Times

Purdue University fans Corky Ingram, foreground, and Judy Wheatley joined others Wednesday in a tour of Hueco Tanks State Historic Site. Ingram is the father of Purdue wide receiver Kyle Ingraham, and Wheatley is Ingraham's grandmother.
---
Make plans



Hueco Tanks State Historic Site is open Oct. 1 to April 30 during the winter season:

What: Activities include educational tours, hiking, birding, picnicking, rock climbing, camping.
When: 8 a.m. to 6 p.m. Monday through Sunday.
Where: 6900 Hueco Tanks Road, No. 1; 24 miles east of El Paso. Take Montana (Highway 180) until you reach the sign for the park.
Cost: Adults (13 and older), $4; Children, free. Texas residents 65 and older and veterans with 60 percent disability get in free. Camping fees are $10 and $12.
Information, reservations: Call in advance for self-guided access, camping or tours at 849-6684.

More information about Hueco Tanks site at http://www.huecotanks.com/
---
While experts differ over the origins of prehistoric pictographs at Hueco Tanks, most people go there to enjoy the wilderness or take in some of the park's history.

Idalia Sullivan, formerly of El Paso, on Wednesday took three of her nieces on a guided tour that made several stops at some of the rock formations with paintings.

"I climbed the rocks here as a teenager, and came back recently, and was blown away by what I saw," said Sullivan, who was visiting from California. It was the first time her El Paso nieces -- Tamara Hoefner, 15; Kristin Hoefner, 12; and Raven Anchondo, 5 -- had gone to Hueco Tanks State Historic Site.

"I really enjoyed the tour, and I want to come back again," Tamara Hoefner said.

Recently, Jorge H. Jimenez, a UTEP scholar who has taught at the University of New Mexico, told a group of journalists and others meeting at Casa Mayapan that there are indications that the prehistoric pictographs are Mayan or were influenced by the Mayans.

The late anthropologist Kay Sutherland Toness, a noted scholar who used to teach at El Paso Community College, and Polly Schaafsma, a rock painting expert in Santa Fe, have said that Mesoamerican cultures influenced the prehistoric pictographs that might date from A.D. 620 Mesoamerican cultures, include the Mayans, Aztecs and Mixtecs.

"The pictographs, which include representations of masks, dancers, and a figure resembling the Mesoamerican rain god Tlaloc, also indicate a far earlier diffusion of Mesoamerican religious influence in the region than previously thought," according to an online article for the Archaeological Institute of America by Spencer Harrington.

"According to (Kay) Sutherland the worship of Tlaloc was carried to North America by trader-priests searching for highly prized turquoise," the article said.

But Marc Thompson, director of the El Paso Museum of Archaeology at Wilderness Park, who is familiar with the work of Sutherland and Schaafsma, disagrees that the pictographs are related to the Mesoamerican cultures. He said the prehistoric pictographs stem from the Jordan Mogollon Indians who settled in the Paso del Norte region.

The museum in Northeast El Paso that Thompson oversees has a model of the "pithouse" homes, for which the Mogollons were known. Traces of such homes were found at Hueco Tanks.

"This is an old topic and one I completely disagree with," said Thompson, who will teach a course at UTEP in the spring about prehistoric cultures. "Just because there are some similarities doesn't make them Mesoamerican. And I'm not convinced that they are 'masks,' or that they represent the god Tlaloc or Qzetzacoatl. It's more likely they are supernatural visages or spirit faces."

Experts who subscribe to the Mesoamerican theory believe the influence could have occurred as a result of contact, such as trade, between the Mexican Indians and the indigenous people of this region.

Diana Washington Valdez may be reach at mailto:dvaldez@elpasotimes.com 546-6140.