Hueco Tanks State Historic Site
Camping Policies
General Information

• The area around the campground is Guided Access. Camping reservations do not
include the North Mountain access reservations. For access, you must register Daily
at Site Headquarters.
• Question or emergency? Contact park ranger or your campground host.
• Public consumption or display of alcoholic beverages is prohibited.
• Vehicles may drive and park on designated paved surfaces only.
• There is a telephone located at park headquarters.
• Pets are allowed in designated park areas, but must be controlled on a leash at all
times. Please clean up after your pet at once.
• Bicycles are allowed in designated park areas but must stay on paved surfaces only.
Camp Vehicle Policies
• .Display camping permit inside windshield.
• Each campsite may have a maximum of six (6) persons and two (2) vehicles.
• Only one vehicle may hook ap to the utilities at each campsite.
• Additional cars must be registered to a campsite and park in overflow parking.
Camp Stay Policies
• A party may stay a maximum of three (3) consecutive nights.
• Quiet time is from 10 p.m. to 6 a.m.
• Tents must be on the designated tent pad at each campsite.
• Checkout time is 2 p.m.
• Guests may visit during park hours. Their number may not exceed the site total (6).
Visitors May Not use camping area showers.
Camp Fire Policies
• Ground fires or charcoal use are prohibited.
• Containerized fuels are the only permitted fuel source.
Gate Policies
• The front gate is locked at park closing Oct -April: 6 p.m., May-Sept: 6 p.m. Fri-
Sun 7 p.m.
• Reservations must be claimed before park closing
• Campers may not exit or enter the park outside of park. hours, except for emergencies.
Litter Policies

• Please properly dispose of all Utter and recyclables in their appropriate containers.
• PLEASE RECYCLE!
• Trashcans are located at each campsite and recyclables may be sorted at the recycling
cans by the camping area restrooms.
• All proceeds from recycling go directly to the park and help the environment.
• Police yourselves and others.
Environmental Policies

• Rocks should not be used (as stakes) to hold down tents.
• Dispose of gray and black water only at me camp dump station.
• Clean up and dispose of all camp trash before final check out. Please Recycle!
• Do not remove rocks or plants...they help control erosion.
• Do not climb on, or place rocks on top of shade shelters.
• Please respect plant and animal life!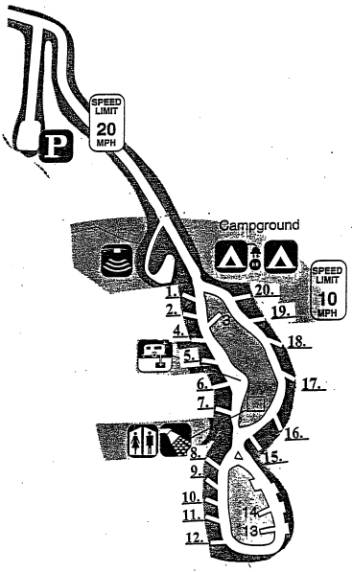 Campground roads are one-way (to the right). Please drive safely!