Note: The Flash and QuickTime versions are optimized for fast start in any browser - IE, FireFox, Safari, Mozilla, Netscape. At the present time, the Windows Media versions will only fast-start in IE.

Video archaeology yields proof of aboriginal bouldering in previous century.
Rare footage of a young warrior of the Lycra tribe undergoing a rite of bouldering passage.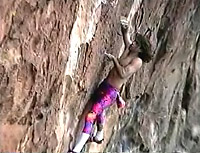 Note the use of the pinkie-lock. After he sticks the lock, he looks relieved - but a few moves later, his left foot slips and he nearly comes off from about 15 feet up. Wyoming Cow Girl on End Loop boulder is a classic frontside climb that has been "led" (the pro is sparse and tricky - might as well be soloing). It is about 30 feet tall and rated 5.12. Normally done on toprope, but in the pre-PURP days CowGirl was a coveted tick during the waves of soloing madness that would periodically sweep through the park. Over the years, several broken ankles and legs have resulted from underestimating the incredible pump that CowGirl can induce.
Albert Jimenez solos Wyoming Cowgirl (5.12) on End Loop ~ spring 1992
Windows Media or QuickTime
---
Rock Rodeo 2006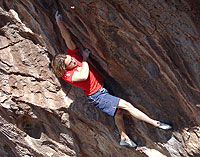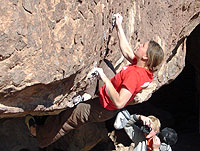 Sam Davis, other Mutants
Isabella Ritsch doesn't choke
session on Eternal Darkness
on the Mexican Chicken
Windows Media
QuickTime
---
Rock Rodeo 2003


Andrew Gross East Spur Maze Andrew Traylor 1st attempt Winners revel in victory
Windows Media Quicktime Windows Media Quicktime Windows Media Quicktime Windows Media Quicktime



Clayton powers through
Windows Media or Quicktime
---
Rock Rodeo 1992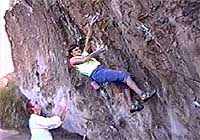 Don "HardMan" Hardin cranks Center El Murray
Windows Media
---
Various Sillyness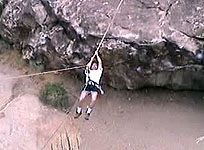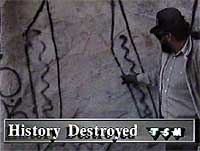 Tyrolean to Warm-up Boulder KTSM Television Nov 1992
Windows Media or Quicktime